PVC marble sheet manufactruing process
Views:119 Author:PVC marble sheet manufactruing process Publish Time: 2015-10-08 Origin:Anda machinery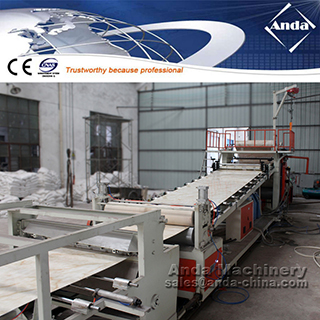 PVC marble sheet is a kind of plastic artificial sheet, which is mainly composed of PVC resin and CaCo3. The advantage of PVC artificial marble sheet: clear grains, no color difference, wear-resistant surface, hardness up to 3H-6H, B1 level flameproof, no radiation, the lowest outdoor aging up to 15 years, the weight is 1/6 of the natural stone,with small impact on building load, can be a large area of paving,and the price is only 1/10 of the natural stone.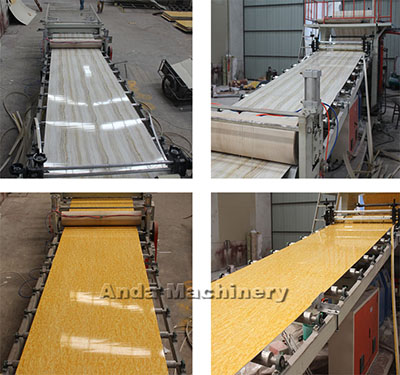 PVC marble sheet manufactruing process:
500/1000Mixer→Auto loader→SJSZ80/156 conical twin screw extruder →Mould→
Three calender(online laminating) →Cooling group rollers→Hual offmachine→
Transversal cutter→Edge cutter→ Conveyor→UV treatment.
You can find our machine video below:
http://youtu.be/B3EtBt7zmnQ
My friends,we have made a plastic marble sheet making machine in our factory for our own.The machine work 24hours with 3 shifts to meet local market. If you are interested in this machine,welcome to visit our factory. We can show you how to mix the raw material,operate the extruder machine, coat UV on the sheet,collect and recycle waste material.
Zhangjiagang Anda machinery Co.,Ltd is a leading pvc marble sheet extrusion machine manufacturer in China. Our factory is located on zhangjiagang jiangsu China, which is only 120km from shanghai.